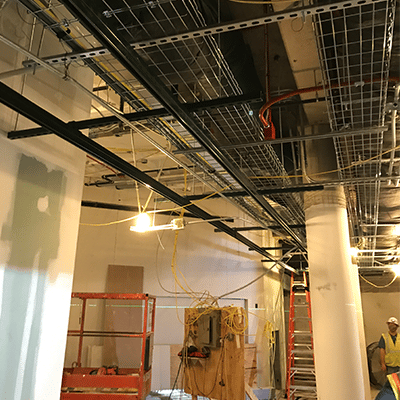 Mounting Led Sign to Unistrut Grid Ceiling
A Unistrut Grid Ceiling is the perfect solution when looking to safely and securely mount lighting, plumbing, piping, electrical wires, signs, medical equipment, and anything else that needs to hang overhead.
Composed of Unistrut channel, hardware and fittings, Unistrut grid ceilings can be easily modified and adjusted on the job-site to meet customer requirements, without the need for welding, cutting, or special tools.
"Under Ground" LED Sign Display
Our team of project managers, estimators and designers were recently tasked with designing and installing custom ceiling grid system for a college in Syracuse, NY.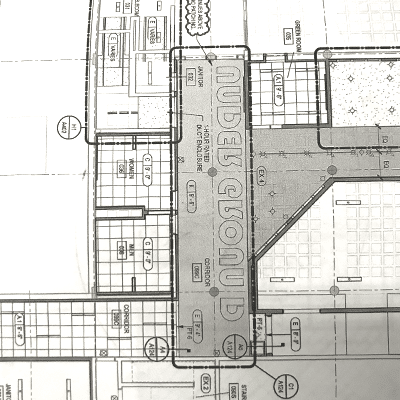 The Unistrut grid had to support a LED sign that was being installed in the basement of one of their newly renovated buildings. Comprised of Unistrut channel, fittings, hardware and threaded rod, the LED sign board spanned 40 feet and met all the requirements of the customer. The Unistrut grid system allowed the LED sign display to be easily mounted in their newly renovated space without any problems.
Fast Track to Success
When Strut Systems Installation, LLC was contacted about this project, the customer was in a hurry to get the job completed. From the initial phone call from Syracuse to the time the installation was completed, it took less the 1-1/2 weeks. The scope of the work included design, drawings, engineering, installation, and inspection. This fast track project met all the necessary requirements of both the customer and inspectors.
Who We Are and What We Do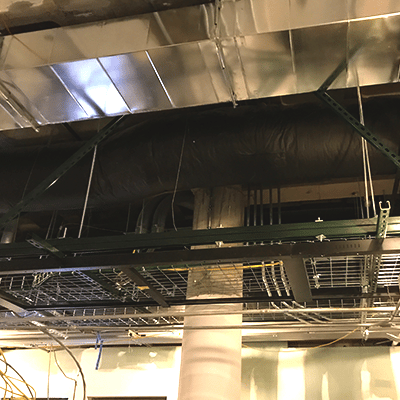 Strut Systems Installation is focused on helping customers who need high quality, engineered and installed ceiling grids, medical supports, walkways, equipment platforms and fall protection.
We utilize the best materials to get the job done so you can rest easy knowing your workers and equipment are safe and secure. Our team of project managers, engineers and estimators have over 50 years of combined experience and are ready to help with your next project. Click the button below to learn more about our company and don't hesitate to reach out!