Unistrut Metal Framing Adapts to Your Ceiling
Unistrut Ceiling is uniquely suited for attaching and supporting everything from lighting, electrical and shelving to expensive, high-tech equipment and art work.
An assortment of beam clamps and other attachment fittings allow the grid work of channel to be attached to your structural ceiling components, making for a very strong and safe connection – securing piece of mind that your items are well supported.
The unique, patented design of Unistrut's metal framing system makes use of often under-utilized vertical space. It also provides a versatile and flexible framework of supports for:
HVAC duct work
Electrical, and
Plumbing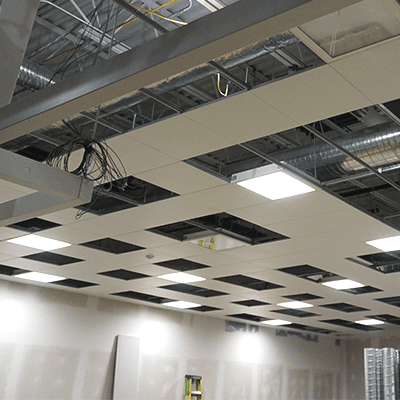 Unistrut Ceiling Grids allow you to design an easily adjustable grids system, so your suspension points can be made wherever you need them to be. No welding, drilling or special skills are required, which leads to a significant savings in both time and labor costs.
The whole system is aesthetically pleasing enough to be out in the open, but can also be hidden behind drop ceiling panels. Panels still allow for easy access to your Unistrut Grid System, should you need to make any changes to your support system in the future.
Unistrut Grids provide structural support with the flexibility of a modular system. The inherent ability to adjust your unistrut grid system saves time and money over new construction, and makes future change fast and easy.
Unistrut Ceilings are perfect for a variety of applications including:
Data Grids
Acoustic Ceilings
Cable Trays
Theatrical Lighting
Telecom Grids
Architectural
Retail
Clean Room
Medical Equipment
Our dedicated project coordinators are here to provide you with the support you need on your custom projects from take-off and design to delivery and installation. We are ready and waiting to tackle designing and installing your next suspended ceiling grid. Our team has all of the experience and expertise that only comes from decades of great success handling these types of highly specialized projects.